A magical start to the journey...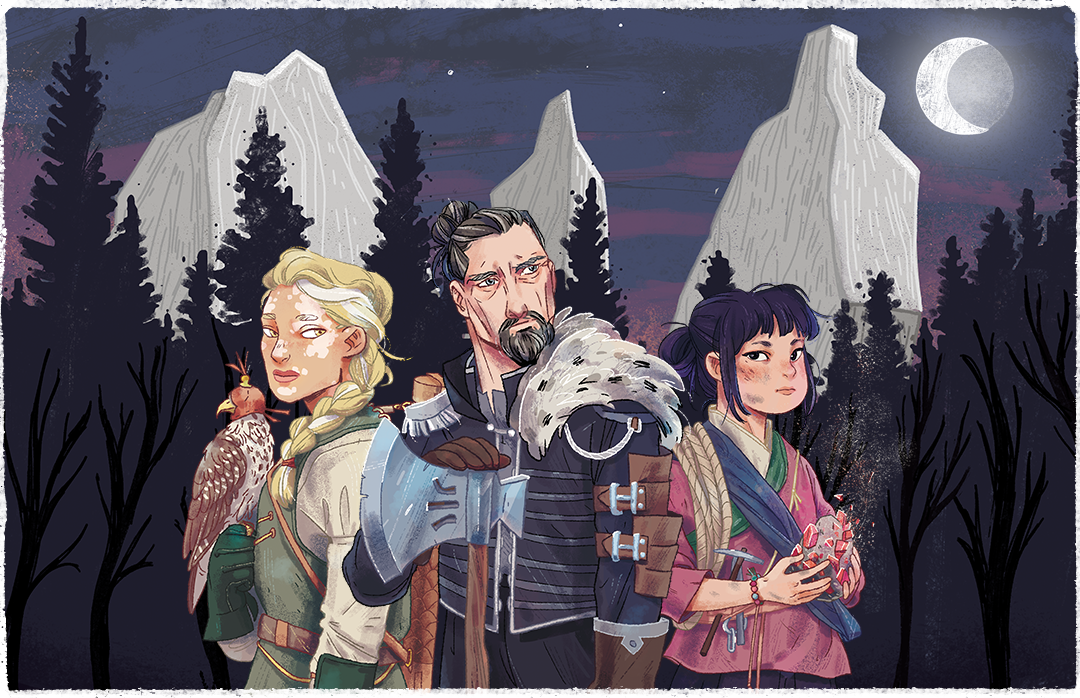 𝑆ℎ𝑒 𝑓𝑒𝑒𝑙𝑠 𝑎 𝑠𝑢𝑑𝑑𝑒𝑛 𝑤𝑎𝑟𝑚 𝑠𝑒𝑛𝑠𝑎𝑡𝑖𝑜𝑛 𝑝𝑟𝑖𝑐𝑘𝑙𝑖𝑛𝑔 ℎ𝑒𝑟 𝑟𝑖𝑔ℎ𝑡 𝑝𝑎𝑙𝑚. 𝑃𝑢𝑡𝑡𝑖𝑛𝑔 𝑑𝑜𝑤𝑛 𝑡ℎ𝑒 𝑏𝑜𝑜𝑘 𝑠ℎ𝑒 ℎ𝑎𝑑 𝑏𝑒𝑒𝑛 𝑟𝑒𝑎𝑑𝑖𝑛𝑔, 𝑜𝑛𝑒 𝑖𝑓 𝑎𝑛𝑦𝑜𝑛𝑒 𝑓𝑜𝑢𝑛𝑑 𝑜𝑢𝑡, 𝑤𝑜𝑢𝑙𝑑 ℎ𝑎𝑣𝑒 𝑙𝑒𝑑 𝑡𝑜 𝑎𝑐𝑐𝑢𝑠𝑎𝑡𝑖𝑜𝑛𝑠 𝑜𝑓 ℎ𝑒𝑟𝑒𝑠𝑦, 𝑠ℎ𝑒 𝑛𝑜𝑡𝑖𝑐𝑒𝑠 𝑎 𝑚𝑎𝑟𝑘 𝑡ℎ𝑎𝑡 ℎ𝑎𝑑 𝑛𝑒𝑣𝑒𝑟 𝑏𝑒𝑒𝑛 𝑡ℎ𝑒𝑟𝑒 𝑏𝑒𝑓𝑜𝑟𝑒; 𝑎 𝑐𝑟𝑒𝑠𝑐𝑒𝑛𝑡 𝑚𝑜𝑜𝑛 𝑜𝑣𝑒𝑟𝑙𝑎𝑝𝑝𝑖𝑛𝑔 𝑎 𝑑𝑖𝑠𝑘 𝑑𝑒𝑝𝑖𝑐𝑡𝑖𝑛𝑔 𝑡ℎ𝑒 𝑠𝑢𝑛. 𝐺𝑖𝑛𝑔𝑒𝑟𝑙𝑦 𝑡𝑜𝑢𝑐ℎ𝑖𝑛𝑔 𝑖𝑡 𝑤𝑖𝑡ℎ ℎ𝑒𝑟 𝑙𝑒𝑓𝑡 𝑖𝑛𝑑𝑒𝑥 𝑓𝑖𝑛𝑔𝑒𝑟, ℎ𝑒𝑟 𝑟𝑜𝑜𝑚 𝑏𝑒𝑔𝑖𝑛𝑠 𝑡𝑜 𝑓𝑎𝑑𝑒 𝑖𝑛 𝑎 ℎ𝑒𝑎𝑑𝑦 𝑤ℎ𝑖𝑟𝑙 𝑎𝑠 𝑠ℎ𝑒 𝑖𝑠 𝑠𝑤𝑎𝑙𝑙𝑜𝑤𝑒𝑑 𝑏𝑦 𝑎 𝑣𝑎𝑠𝑡 𝑒𝑚𝑝𝑡𝑖𝑛𝑒𝑠𝑠 𝑏𝑒𝑓𝑜𝑟𝑒 𝑓𝑖𝑛𝑑𝑖𝑛𝑔 ℎ𝑒𝑟𝑠𝑒𝑙𝑓 𝑖𝑛 𝑎 𝑤𝑖𝑙𝑙𝑜𝑤 𝑡𝑟𝑒𝑒 𝑔𝑟𝑜𝑣𝑒. 𝐼𝑛 𝑡ℎ𝑒 𝑐𝑒𝑛𝑡𝑟𝑒 𝑜𝑓 𝑎 𝑐𝑙𝑒𝑎𝑟𝑖𝑛𝑔 𝑠𝑡𝑎𝑛𝑑𝑠 𝑎 𝑚𝑎𝑛 𝑤𝑖𝑡ℎ 𝑎 𝑤𝑖𝑧𝑒𝑛𝑒𝑑 𝑓𝑎𝑐𝑒 𝑤𝑒𝑎𝑟𝑖𝑛𝑔 𝑎𝑛 𝑒𝑣𝑒𝑛𝑖𝑛𝑔 𝑏𝑙𝑢𝑒 𝑟𝑜𝑏𝑒 ℎ𝑒𝑙𝑑 𝑡𝑜𝑔𝑒𝑡ℎ𝑒𝑟 𝑤𝑖𝑡ℎ 𝑎 𝑙𝑜𝑛𝑔 𝑔𝑜𝑙𝑑𝑒𝑛 𝑝𝑖𝑛 𝑎𝑡𝑜𝑝 𝑜𝑓 𝑤ℎ𝑖𝑐ℎ 𝑠𝑖𝑡𝑠 𝑎 𝑏𝑟𝑜𝑜𝑐ℎ 𝑑𝑒𝑝𝑖𝑐𝑡𝑖𝑛𝑔 𝑎 𝑠𝑖𝑙𝑣𝑒𝑟 𝑐𝑟𝑒𝑠𝑐𝑒𝑛𝑡 𝑚𝑜𝑜𝑛 𝑜𝑣𝑒𝑟𝑙𝑎𝑝𝑝𝑖𝑛𝑔 𝑎 𝑠𝑢𝑛. 𝑆𝑢𝑟𝑟𝑜𝑢𝑛𝑑𝑖𝑛𝑔 ℎ𝑖𝑚 𝑖𝑠 𝑎 𝑐𝑖𝑟𝑐𝑙𝑒 𝑜𝑓 𝑟𝑒𝑑 𝑐𝑟𝑦𝑠𝑡𝑎𝑙𝑠, 𝑟𝑢𝑛𝑒𝑠 𝑎𝑝𝑝𝑒𝑎𝑟𝑖𝑛𝑔 𝑤ℎ𝑖𝑡𝑒-ℎ𝑜𝑡 𝑜𝑛 𝑡ℎ𝑒𝑖𝑟 𝑠𝑢𝑟𝑓𝑎𝑐𝑒𝑠. "𝐼 ℎ𝑎𝑣𝑒 𝑠𝑢𝑚𝑚𝑜𝑛𝑒𝑑 𝑦𝑜𝑢 𝑎𝑙𝑙 𝑎𝑠 𝑡ℎ𝑒 𝑆𝑎𝑏𝑏𝑎𝑡ℎ 𝑖𝑠 𝑎𝑙𝑚𝑜𝑠𝑡 𝑢𝑝𝑜𝑛 𝑢𝑠," 𝑡ℎ𝑒 𝑟𝑜𝑏𝑒𝑑 𝑓𝑖𝑔𝑢𝑟𝑒 𝑎𝑛𝑛𝑜𝑢𝑛𝑐𝑒𝑠 𝑡𝑜 ℎ𝑒𝑟 𝑎𝑛𝑑 𝑡ℎ𝑒 𝑜𝑡ℎ𝑒𝑟 𝑔𝑎𝑡ℎ𝑒𝑟𝑒𝑑 𝑎𝑝𝑝𝑎𝑟𝑖𝑡𝑖𝑜𝑛𝑠. "𝑌𝑜𝑢 𝑎𝑙𝑙 𝑚𝑢𝑠𝑡 𝑐𝑜𝑚𝑒 𝑡𝑜 𝑁𝑜𝑐𝑡𝑒𝑛𝑏𝑢𝑟𝑔 𝑖𝑛 𝑡𝑖𝑚𝑒 𝑓𝑜𝑟 𝑡ℎ𝑒 𝑛𝑒𝑥𝑡 𝑚𝑜𝑜𝑛, 𝑜𝑛 𝑡ℎ𝑒 𝐻𝑎𝑙𝑙𝑜𝑤'𝑠 𝑛𝑖𝑔ℎ𝑡, 29 𝑑𝑎𝑦𝑠 ℎ𝑒𝑛𝑐𝑒."

Many Hallow's moons had passed since the High Witch's mark first appeared on her palm, the summons to attend the Witch's Sabbath. She thought back to the ensuing journey that, with the aid of Aldo and his crystal, she made to Noctenburg, gathering other witches who also bore the mark of the crescent moon and sun to form Covens of the Elect. And now, the light of the last full moon before Hallow's night spilling through the willow canopy falling on the circle of crystals, she must call to her those who will form the new 𝐜𝐨𝐯𝐞𝐧𝐬. Placing her hand on her brooch, a crescent moon set upon a sun disc, she begins the incantation of summons, a myriad of burning white runes radiating on the crystals.

Far to the south of the willow grove in a house on the edge of a forest, the sound of frantic knocking drags Dragomir's from a stack of old maps he had been scanning for some mention of a place called Noctenburg. "And what do you mean by all this banging?", he commands in a gruff tone, opening the door to find two women standing before him, one with patches of white punctuating her face. "You must leave, now!", she says, brushing past him into his home.
"Do I know you?", he asks, directing the question to her companion as he closes the door behind her. She is dressed in the unmistakable garb of the Kallari, the nomadic people. Hanging around her neck he notices a small leather pouch that appears to give off a faint red glow. "We have already met", she replies, "well, sort of." Holding up her palm, Dragomir can make out a symbol consisting of a sun and a moon. "Of course," he says in a quiet voice, remembering the guide Septima had pointed out in her message.
"We don't have time," the other woman interjects, her tone short. "It seems your spells fell short, executioner," she adds, emphasising the last word. "There's a mob making its way here, eager for your head," the irony evident in her voice.

Pondering the situation for a few moments, Dragomir abruptly disappears, returning a few moments later clutching a rucksack. From down the lane a raucous noise drifts closer.
"There's an old hunter's cabin in the woods," he says, grabbing his leather fur-lined cloak and leading them out the back of the house and into the forest lying not far behind.

A short while later, the sharp crack of wood being riven and then a crash sounds from behind them.

"My name is Sen", the young girl offers when they finally reach a small cabin. "I'm Serena," her companion says, holding out her hand to him. "I'm sorry about before. I'm usually quite pleasant," she adds, a hint of humour in her voice.

"Well, it seems you saved me an unfortunate end," Dragomir replies, before adding "I'm Dragomir. You are to lead us to Noctenburg, if I remember well." he says looking at Sen. "Do you know the way?"

"Not exactly," Sen replies. "My people say it is somewhere in the north."

"So how do you intend to be our guide if you don't know the way?", Dragomir probes.

"This is how I knew where to find you both," Sen replies, removing a red crystal from the pouch around her neck.

Almost as soon as Septima's symbol appeared on her palm, Sen began to notice strange white marks emerge on her crystal. At first they were nothing more than a dizzying array, but as she continued to observe them she noted a coherent pattern, the meaning of each rune becoming clearer: a face with pale white patches, a severe, goateed face and a bridge which she knew led to the town of Anduin.

"And what do you see now?", Serena asks after Sen had explained how her crystal worked.

"A tall, scraggly boy with unruly black hair. The remains of an abandoned village that backs onto a white cliff."

"Those are the cliffs of 𝐂𝐚𝐥𝐬𝐭𝐨𝐰," Dragomir exclaims. "The village was destroyed by a fire. It's not far from here, 3 and a half days' walk at the most."

"Then we best be on our way," Serena says, standing. "Before the townsfolk think to seek you here."

"He's just a boy," says a gruff voice. Blinking awake in the bright morning sun, Tommy finds three strangers looking at him. A cluster of stones nearby starts to rise. "We won't hurt you," Serena says in a soft voice, holding up her palms. Noticing a mark on her outstretched right palm, "You have one too," the boy exclaims, the stones settling back onto the ground.
"Why are you sleeping here?" Serena asks. "Where are your parents? Your home?"
"My mother died," the boy replies to Serena's question, looking away.
"But you must live somewhere? Someone must look after you?" Dragomir presses.
"I wasn't alone," Tommy replies, before in a quiet voice adding, "Flame looked after me."
The moment Tommy set foot in the abandoned village, he felt an odd pull towards the place. He walked through the deserted streets until he found himself standing opposite the remains of a building in front of a cliff face. For a long time, he stood there, staring at the crumbled ruin, struggling to untangle something he could not quite remember. When night came and he finally drifted off to sleep eager to tell his dream companion about this strange place, the Flame did not appear, nor did he find himself in their usual room of adventures.
He is walking through a village. The streets are empty and silence envelops the place. His feet are taking him to a place he knows he must go. An old dread starts to grip his chest. Next to a marketplace, he sees a town hall. As he approaches, he sees a young woman dressed in a green tunic. The soft features of her face pull at a deep memory. She smiles at him, a warm smile that causes tears to start falling down his face as he already knows what will happen next. He tries to run as the woman turns and enters the building, the door closing behind her, but his legs don't respond. As the building starts to crumble, collapsing in a flurry of dust, he realises he has seen it all before years ago.
"I tried to keep all this from you," said a familiar voice, as Tommy finds himself sitting in the comfortable tall-backed chair he often sat when the Flame wove fantastical dreams of wondrous adventures for him. "I wanted to keep you from seeing." Tommy knew that what he had seen was not a dream.
For a long time, Tommy sat in silence. "You are not real, are you?", he said finally in an almost inaudible whisper.
"You were alone and needed a friend," the Flame replies, sadness in his voice. "So you brought me here."
The Flame had appeared not long after Tommy arrived in the orphanage. On that night a caretaker found him standing by a hallway window as though he were looking at something. Turning him to face her she saw a pale face and only the whites of his eyes showing. The following morning when he was asked about the event, merely stared at the floor, his face expressionless. A few days later, as the thatcher was fixing the roof, he lost his footing and fell. Tommy already knew the dull sound and the scream that followed would come before he heard them.
"After that night, when you were seeing, I came to bring you into this room", the Flame continued.
Throwing a quizzical glance at Dragomir, who shrugs his shoulders, Serena points to the symbol on the boy's hand.
"Did you get this recently?", to which the boy nodded.
"So did we," Serena says. "My name is Serena. These are my friends Dragomir and Sen," who both meet the boy's gaze with a smile, which does little to soften Dragomir's severe features. As Sen steps forwards as if to kneel in front of Tommy, the pouch around her neck slips from the folds of her tunic and she suddenly stops. His eyes firmly on the pouch, a blank expression passes across Tommy's face a second or two before his eyes roll backwards.
"Tommy! Tommy! Are you alright? What happened?", Serena's voice finally pierces through a fog slowly clearing in Tommy's head. For a few moments, he does not answer, his arms wrapped around his knees, looking past her far off into the distance.
"I can see things," he says eventually in a quiet voice, the cloak Dragomir had draped around him appearing to revive the boy.
"What can you see?", Dragomir asks, his eyes searching for Tommy's.
"Bad things. I can't stop them. I see them and then they happen," Tommy says stutteringly.
Gently coaxing him, Tommy reveals that he was standing in a valley. In the distance dark clouds loomed over where two hills meet. A thick bolt of lightning splits the sky, hitting a lake that lays just beyond. Suddenly a deluge of water broke through the hills, crashing down towards him. Turning to run, he saw a town a short distance away. As he reached it, he tried to shout but no sound came out of his mouth, only the roar of water drawing closer and closer.
Of all the cities in Anduin, Alice longed to visit none more so than Novamer, the centre of scientific reason and empiricism. Often, while scribbling her ideas for experiments on rolls of parchment, her mind would drift to her standing in front of the Masters of the city freely sharing her ideas.
"Impossible," someone scoffed.
"Absolutely not. This is no place for a maiden," came another.
"The thought of it! Why, it's preposterous," bellowed another.
Although she hadn't expected to be welcomed with open arms, she was still taken aback by their vehemence.
"Forgive my fellows," Marven offered after other Masters had left. "Although they dedicate their lives to changing the world, in some matters they are stuck in the dark ages," a mischievous twinkle in his eyes. "May I?" he asked, pointing to the scrolls in her hands.
"Very interesting indeed," he muttered, studying the scroll.
"Not many know all the various uses of quicksilver and yet it seems you've found another. Tell me, what is it for exactly?".
"To harness the elements," Alice answered.
"And do they make equally interesting reading?" pointing to the other scrolls.
As they worked on the weather device in his lab, Alice soon discovered Marven was quite unlike his fellows.
"I've long thought it a grave error for the council to disregard the study of the mystical arts", he confided in her one afternoon. "Just as the sun and moon serve to guide, one through the seen, the other through the unseen, so too must we consider science and the mystic arts." When Septima's mark appeared on Alice's palm, she had pondered for a while whether her secret would be safe with him.
"And you felt no pain?" Marven asked, staring at Alice's palm.
"Just a tingling."
"Curious," he said, turning to a bookcase. Returning with a weathered tome, he flipped through the pages, finding the one he sought. "Yes, I knew I had seen it before," pointing to a passage about an insignia once belonging to a powerful witch almost a millennia before.
"I hope there is still time," Sen says as they approach a hill overlooking the city of Novamer. In the distance a flash of lightning briefly illuminates the city down below and in the distance, the dark silvery surface of the lake.
"It won't be long," Tommy said, gloomily.
Looking at him wondering what must be going through his mind, Serena makes a decision.
"Sen and I will go down to the city. It will be quicker that way," and kneeling in front of the frightened boy, "You can stay up here with Dragomir," receiving a weak smile in return.
Putting an arm around Sen's waist, "Hold on," Serena says. For a moment Sen feels the odd sensation of her feet leaving the ground before suddenly they are drifting through the air, down the hillside, then stopping quite safely in an elderberry shrub. Meeting a steward, Sen describes the woman she had seen in her crystal. Following his finger, she sees two silhouettes maneuvering an object on the walkway of the city's northern wall.
"Do you think it will work?" Alice shouts as a rumble of thunder rolls by. The device in place, calibrated as per her calculations, "Time to find out," Marven replies, stepping aside. "The honour is yours."
Reaching into a bag, Alice gently removes an orb with a small ball of light in its centre and carefully places it on a curved disk surrounded by quicksilver-filled cylinders. At the push of a lever, the cylinders begin to spin, the small ball of light expanding to fill the orb. A thin beam of light shoots up into the sky, piercing the clouds for a few moments, before it disappears as the cylinders slow to a stop.
"Well, it definitely works," Alice says, delighted. "We just need a stronger power source and…," she drifts off as two women approach.
"I know you," Alice says looking at Sen. "It's fine, you can trust him," she adds, seeing the women's uncertain glances at Marven.
"It would be impossible to convince the council," Marven says, shaking his head after hearing their ominous story and the suggestion they evacuate.
"Maybe we can dispel the storm," Alice ventures. "We just need enough power. If we add more orbs… or maybe…," a flashback of the grove entering her mind. "Crystals," she says thinking aloud. Turning to Sen, "It is the same as the ones Septima used, correct?"
Sen nods, clutching the pouch around her neck.
"Its magical properties should be enough to generate the power we need," Alice continues. "I know it's a lot to ask, but I don't see any other choice."
Hesitantly, Sen removes her prized possession and hands it to Alice. She sets the crystal in place of the orb and makes a few minor adjustments to the device. Taking a deep breath, she flips the lever.
Her eyes adjusting to the intense light, Alice watches the beam hold, the quicksilver cylinders whirring at an impossible speed. As though drawn into a vortex, the clouds swirl towards the beam until only a starry night with a crescent moon remains.
Mathilda seldom left her father's glass blowing studio. On rare occasions she went to the docks to talk with merchants who brought wonders from across the seas. On nights she couldn't sleep, she snuck down to the lighthouse to visit the keeper. Reclusive by nature, her visits nonetheless brought him joy ever since she had given him a gift that gave rise to the legend of the Lighthouse of Saphro, and that meant he no longer had to keep the coal fires burning. A work of mesmeric beauty, the lamp held a convex lens that gave off a light that, even in the fiercest weather, reached far to sea and had been rumoured to pull wayward and damaged ships safely into port.
One night as the lighthouse keeper was reading aloud from a collection of stories, they sighted a ship flying unfamiliar flags drifting into port. Although this in itself was no strange occurrence, as it drew closer, the deck appeared to be empty - no crew nor a captain at the wheel.
The city went into immediate quarantine once port guards had discovered the crew below decks in the agonies of an unknown malady, their bodies covered in pustules. The boatswain, who seemed less afflicted, informed them in a breathless voice that a plague was spreading through the neighbouring isles, leaving the afflicted bed-ridden with the worst patients descending into lunacy.
"We could try sneaking in," Serena suggests, after the guards had denied them entrance into Saphro without explanation. Out of sight, they had made their way onto a beach a little ways from the city walls. A lighthouse on an outcrop jutting out of the sea close by. Even in daylight, the glass atop the lighthouse shone with a luminous sheen.
After discussing the idea, the group decided that Dragomir, Sen and Tommy, bearing somewhat of a resemblance to be a father and children, would go once night had fallen.
As night fell, Mathilda made her way to the lighthouse, stealthily avoiding the night guard patrols. "You took a silly risk coming here past curfew," the lighthouse keeper said when she arrived. "I promised I would come," she replied, smiling. "You haven't finished the last story."
Just outside the city wall near the lighthouse, standing on Dragomir's shoulders, Tommy looked around and not seeing anyone gave the sign it was all clear. Having scaled the wall, the three remained in the shadows a moment, listening intently. "The glass studio should be to the east of the lighthouse," Sen said in a whisper, remembering what she had seen in the crystal.
"What a terrible thing to do", Mathilda says aghast, looking out a window after the keeper finished a story about a witch who connived to capture a fallen star made human and absorb her light to extend her own life. The jewellery she wore on her hand briefly glistened.
Down below she notices three figures moving furtively between the buildings, unaware that the path they are on would lead them straight into one of the night patrols. Around the neck of one of the figures, something gives off a red glow.
"Halt!" a voice commands suddenly. As soon as Tommy saw the ghoulish plague mask the guards wore, fright took over him. Taking a few steps back, he turns and runs before Dragomir can stop him. Giving chase, Dragomir calls after him, with Sen not far behind. Taking this as a sign of unlawful behaviour, the guards run after the trio.
"They are running into a dead-end," Mathilda says, surprising the lighthouse keeper as she darts through the door, her light steps barely audible on the stairs.
Driven by panic, Tommy frantically searches for a way to scale the high wall now in front of him. Looking back he sees the group of guards behind Dragomir and Sen, drawing closer. Motioning with his hand, stones start rising from the ground.
"It's okay lad," Dragomir says as he and Sen reach Tommy. "I'll handle this."
With the guards upon them, their polearms pointing menacingly, Dragomir readies to cast a spell of illusion when a blinding light fills the alleyway and for a moment all is white.
"Come with me," whispers a woman's voice, a hand on his shoulder. Grabbing for Tommy and Sen, he follows the hand pulling on his cloak, their eyes screwed shut.
Once their eyes readjust, the guards look around confused to find the alleyway empty.
"Are you all alright?" Mathilda asks worryingly. "I saw you from up there and I couldn't think of anything else to do," Mathilda explains.
"Is that how your guards treat people?" Sen asks, rubbing her eyes.
"The city is under quarantine," Mathilda explains. "A few days ago a ship arrived with its crew carrying some strange illness that has already spread across the islands and there are rumours it is already in some places along the coast."
"Why did you climb over the wall," she asks a moment later.
"Do you recognise this?" Sen replies, showing her right palm.
"Of course," Mathilda replies slowly, looking at her own hand.
"Please, he needs help!" Alice pleads as Tommy almost collapses "And so do they." Behind her, Mathilda does her best to support Serena and Sen, Dragomir leaning against a tree in a fit of coughing. After a day's trekking from Saphro they noticed the first signs of the sickness - unexpected coughing fits; a bone-deep chill despite the clement weather. A few days later small spots began to appear to their skin
The villagers had barricaded the entrance with carts, and stood guard armed with farmyard tools, refusing entry to anyone.
"You carry the curse," a guard responds. "It has claimed too many of our folk to allow you in our home."
"Is there no medicine woman who might help?" Alice pushes, desperate.
"She succumbed to the curse," replies another.
"The potion's master could help them," a teenage boy suggests and runs off after receiving a begrudging nod.
For a long time Luke wandered aimlessly, sleeping wherever night found him. He sometimes stopped in inns, watching the innkeepers pour drinks for their customers, lamenting the loss of his beloved establishment, the Winged Elephant. One evening, in a haze of ale he accosted an innkeeper, frenziedly explaining how "by adding two skullcap leaves, a grain of powdered rose petals and ground, not chopped, lemon balm to a tankard of mead", he could make a drink that would ease the broken heart of the fellow who just ordered a drink. From that day on he avoided any place where an inn might be, staying only in the small villages or hamlets. Grateful for the hospitality and friendship he received, he would concoct a tonic that cured the villagers' ailments and although the thought of his former life still pained him, his spirits began to lift as he saw the good he was doing. Soon tales of a wandering Potion's Master began to spread and he traveled between villages, treating their maladies.
"Are we under attack Bartholomew?" a portly man asks in a jolly voice, seeing the guard clutching their weaponry.
"They bear the curse," a villager whispers, gesturing to the group outside the gate.
"Then you better send for the curse-breaker immediately, Bartholomew" he replies in a serious tone, before letting out a deep laugh. "Let's see in what way these poor folk are cursed exactly," Luke continues, beginning to move the carts aside.
Starting to protest, Bartholomew instead bites his tongue as some of the other guards help Luke to move the barricade before taking a few steps away from the entrance. "Well, he did cure all of our sick," one of them says after Bartholomew gives him a withering look.
Stories of an unknown sickness had been spreading of late and Luke had noticed a wariness in the villages he passed through. On his way to Sunnymeade, he came across two residents who told him they were headed to beseech the town church priest to come and dispel the curse that had taken hold of their home. Arriving to find most of the inhabitants covered in pustules, he wrapped a cloth around his nose and face and began to examine some of the victims. Making use of the few residents still unaffected, he sent them to fetch all manner of herbs, flowers and plants and set to brewing a myriad of potions. By the time the two residents who went to request the priest's aid returned, the whole village had been cured.
"The boy indeed does have the sickness," Luke confirms after studying Tommy. "William, bring me my potion's bag would you," talking at the boy who had gone to fetch him. A fit of coughing draws his attention and he notices a tall man doubled up against a tree. A few feet in front of Dragomir, Luke makes out three bodies lying on the ground.
With the patients resting in a pleasant sleep induced by Luke's potions and the pustules slowly fading, Luke brings Mathilda and Alice two tankards containing a steaming potion that gives off a faint aroma distinctive to each of them. "You must have had a difficult journey," he says, handing them the goblets. "This is a little specialty of mine. It will restore your spirits." He watches the women drink, pleased as he notices a contentedness appear on their faces.
"So you were also called to Noctenburg," he says a few moments later. "I saw the mark when I was examining your friends."
"Yes," Alice replies in a relaxed voice.
"Let them rest for the night, and in the morning they will be right as rain. We can leave then," Luke says, feeling mixed emotions about the prospect of being so close to his beloved inn again.
The next morning as Luke waves back to the villagers standing at the gate, he spots William running through the crowd towards him carrying something in his hands. "You almost left this," the young man says, handing him an object.
"Ha! Thank you, my boy," he says, a thick hand patting William on the shoulder. "You've saved me a lot of worry down the road." In his hand sits the small statuette of a flying elephant.
For almost a millennia no one had entered the Forest of Sorrows, a dark, foreboding place no man-made light had been known to penetrate.
Bryn had survived a few close calls. The authorities had intensified their search, desperate to catch the culprit distributing the Witches' Clarion containing stories of the scandalous deeds of the highest officials in the region. For a while it was believed that a secret network was at work, but after a few near misses they concluded it was a lone agent who always disappeared in the flurry of a whirlwind when they got close.
Despite the risks, Bryn continued undeterred. They would evade capture, find a new hideout and continue their work. Their last escape had been too close for comfort. Hearing footsteps, Bryn turned from the loud print machine to find themself surrounded on all sides. For the first time, a flash of fear shone in their eyes. Summoning a power they didn't know they possessed, a mighty whirlwind swirled all about the hideout, forming a cocoon around Bryn, hurling their pursuers into the air and a few feet away. Willing themselves to be somewhere where they would not be found, they were lifted high into the air and carried across a vast distance, disappearing over a dark and foreboding forest. Finally feeling solid ground beneath them, the whirlwind dispersing, Bryn found themself in a beautiful glade, birdsong filling the air, a brook with crystal clear waters and nearby a small abandoned cottage. The door gave way at a slight touch, raising clouds of dust as a beam of light filled the room.
Pleased to have found a place where no one would pursue them, Bryn set about cleaning the place in order to make it livable and continue their printing. As they were cleaning the walls they noticed a door hidden behind a layer of dust. Opening it, they found a small pristine room with a table on which lay a tome bound in leather, Historia Arcana & Magick etched into the cover. Flipping through the sheafs, Bryn saw that it was written in many different languages, some of which they understood. Fascinated by what they could read, Bryn resolved to know the whole story.
It took them some time to set the enchantment on the printer machine. Writing on a piece of paper the little Latin their father had taught them, Bryn fed the paper into the machine and to their delight, when the page appeared on the other side, the text had been translated.
As more parchments of Historia Arcana came out of the print machine an impossible memoir unfolded.
At a time before the Empire reigned supreme, two witches were deeply in love - Seline and Maynard. Mourning the brutal murder of Seline, Maynard could not bear the grief. In a desperate quest to bring back his love, he spent years seeking all knowledge of magic he could find, no longer concerned with good or evil. As he reached old age, he brewed the most abominable of potions in order to extend his life, delving ever deeper until he no longer noticed the passage of time. Turning his back on the world, he came to the glade where the cottage stood and to keep all away, enchanted the surrounding forest. He experimented with the darkest of spells believing he could open a door to the next world to bring Seline back to him. Believing he had perfected the spell, he cast it one night and as a white expanse opened in front of him, he believed he had achieved his goal. However, a being of neither darkness nor light appeared before him and in a terrible voice accused him of his many crimes and as punishment he would get his wish: an unnaturally long life, but doomed to never achieve his heart's desire. As an act of mercy, the being made him an offer: whenever the dark comet Eurebeus journeyed through the night's sky and all magic was dulled, with true repentance for his deeds in his heart, he could pass into the next world.
Eurebeus would pass by thrice before in the year 1211, after almost 1500 years, Maynard left his lonely cottage, walked across the glade and left the world behind.
It was already night as Bryn replayed the fantastic tale in their mind when they realised that it had been exactly 400 years since the cottage stood empty. At the same time, looking out of the small cottage window, they saw a being made of pure light walking out of the shadow of the dark forest and as it drew nearer and began to dim, except for the blonde hair that continued to shine, they saw it was a woman closely followed by six other figures.
After Bryn shares their incredible story with the group and their realisation that Eurebeus is on its way, an agreement is reached that it would be best to make their way back through the forest. As they near the border of the forest, Mathilda is surprised to feel her light dimming. Focusing her will on maintaining her glow, the group manages to spill out of the forest as Mathilda feels the light within her ebb, then fade away.
When they realised that they no longer had use of their magical abilities, the group was thrown into temporary chaos. Luke could not longer recall the properties of the many herbs and plants he knew by heart; the sheen of Mathilda's blonde hair had dimmed much like the light she appeared to be made of; had he tried, Dragomir wouldn't have been able to cast a chant of illusion on the simplest of minds - in short, a sense of despair ran through the group. The only fortune they could hold onto was that Sen had already read in the crystal their next destination and who they were to seek there, although now she could no longer sense the direction the crystal transmitted to her nor understand the runes that to her surprise still appeared on the crystal. Even the symbols on their palms faded as time wore on.
Nina loved her life on the high seas more than she had ever hoped. On board The Merry Genevieve, named after the captain's daughter, the pirates did not live up to the fearsome reputation attributed to them in their treatment of her. The captain saw in Nina the same jolly spirit the daughter he had losthad and the crew took her as one of their own and in many ways it was a relationship of mutual benefit. Charting their course by the stars, she discovered lands she never dreamt existed, taking to the life of a buccaneer with pleasure, although she was adamant that they not torment the innocent. In return, the pirates delighted in her jollity and her music which worked such wonders upon them that often they felt their very souls soothed, swimming in a contentedness they had never felt before.
Sometimes they would stop at some island simply to satisfy the longing Nina felt to sit amongst the trees, listen to their songs and in chorus with them create such beautiful music that it seemed all of nature breathed happily, entranced by the melodies.
When the symbol of a crescent moon laid atop a sun appeared on her palm, they carried her to the island of Anduin. The crew bound her to a pirate's oath that should the call of the sea fill her heart, she need only return to that bay on the night of the spring equinox and they would find her guided by the stars and her music.
As the ship disappeared over the horizon, Nina looked up into the night sky, smiling as she mapped the constellations. However, where she expected the northern star to be, only a dark shadow lay.
Two days later as she travelled in the hopes of finding a town where she might enquire for directions to the city of crystals, she spied a small glade. Remembering the day she first received her magic flute, she decided to rest a while and listen to the trees which often rejuvenated her both in mind and spirit. As she laid down, closing her eyes, the sounds she expected to hear did not come. Although a gentle breeze played through the trees, there was a discordant note in the air. She strained harder, trying to pick out the notes she knew all too well, leaning her ear to the trunks of trees hoping to hear their voices, but nothing came. Many times before when she listened to nature's music or when she played her flute, she saw in her mind's eye the old woman who, resembling an old oak tree, had whittled the flute for her. Each time Nina played the flute, the old woman would sway in a serene dance, but all that now came to her was what looked like a shrunken tree laying on the ground, a shallow rising and falling barely perceptible. Feeling a deep sadness at an indescribable loss, Nina collapsed and for a long time stayed like that, wishing for the old woman to appear once more, alive and vital. Without thinking it, her flute was in her hand, fingers placed on the finger holes and, her eyes closed with only the fallen oak in her mind's eye, she began to play, both for herself and the old woman made of oak.
The melody was unlike anything she had played before. In it, Nina felt an intense sorrow and longing that was not just her own, but one that came from somewhere deeper, the ancient mother reaching up from the heart of the world until, giving voice, the music spread out from Nina, around the glade and its surrounding trees and beyond, stretching out in waves endlessly and in it she heard echoes of the old woman's voice. It was a long time before Nina finished playing her song. She sat a while with her eyes closed as she listened to the trees finding their voice, sensed the beating of the earth beneath her, smiling as in her minds' eye the shrunken oak tree grew larger and larger, its lush green branches spreading until she could not make out the trunk nor where the branches end. When she finally opened her eyes, she saw smiling faces looking down at her, and behind them a stout, bearded fellow running around listing the different uses of the plants and herbs in the glade, before rolling on the ground and exploding in a loud, joyous laugh.
The image on the wanted poster was uncannily familiar. "Martha dear. I said, 'How many parsnips does your mother want today?'" Gertrude the greengrocer asks. Following Martha's gaze, she lets out a contemptuous snort.
"Oh, sorry, just the 3 today," Martha replies, looking back at the poster, trying to figure out why the face is familiar. All the while, Gertrude witters on: "You know, you can tell just by looking at that face that he is one of them, you know witc…"
"That's it," Martha whispers, remembering the vision of the grove. "What is it, dear?" Gertrude, breaking her monologue, asks half-interestedly as she weighs some potatoes before depositing them in Martha's basket.
"Here," the sudden conspiratorial tone grabs Martha's attention and as she follows Gertrude's gaze, she sees the unmistakable black capes and hats with red trim of the Witch Hunter agents across the market. "You know Bernard, Eunice's boy who joined the guild of Witch Hunters two years past. Well, Eunice says he wrote her that they were tracking a band of witches, a band of them would you believe, and they are very close to catching them," and nodding to the poster, "Bernard says that one is amongst their lot," contempt contorting her face.
"Really?" Martha asks, watching the Witch Hunters out of the corner of her eye.
"It appears they are heading north, recruiting more of their kind, as if one of them weren't bad enough, off to do Lord knows what. Nothing good I wager! Bernard says they have set a trap for them near our southern border. I hope they catch the lot of them if you ask me."
Although Martha generally took what Gertrude said with a pinch of salt, the greengrocer known for her love of idle gossip, the wanted poster and Bernard's letter were too unlikely to be mere tittle-tattle. "Do they know exactly where they are going?" Martha asks, barely keeping her interest out of her tone.
"Who knows dear," Gertrude answers, blind to the change in Martha's demeanour. "As long as they don't set foot in our town…"
Feeling eyes staring at her, Martha turns from the conversation to see one of the agents now separated from his partners looking directly at her. The certainty in his eyes sends a cold sensation up her spine. A few metres to his left and right, she notices that his colleagues are also heading towards her, blocking any possible escape that way.
"Thank you," Martha says abruptly, dropping some coins into Gertrude's palm, grabbing her basket and walking briskly away trying not to break into a run. "But Martha dear, don't you need these potatoes? And you gave me too much money, dear," Gertrude calls out to her and getting no response just shrugs her shoulders and pockets the florins.
Turning the corner, Martha breaks into a sprint eager to reach the safety of home when she sees agents blocking the path up ahead.
"It's no use. There's nowhere left to go," smiles one of the Witch Hunter agents approaching from the marketplace as Martha desperately looks around hoping for a way out.
Sensing his creator's thoughts, a pile of what appears to be herbs and spices begins to stir until a towering golem emerges. In one effortless bound, the golem crashes through the door of the storage room and in another giant leap is over the tall garden wall behind the store.
Ever since she had brought him to life, Martha spent all her free time with the golem. He would help her in the storage room and once the work was done, they would have long conversations, the golem learning about the world and Martha happy to have someone she could share her thoughts with. Through the little events that occurred, she discovered many things about the golem: he lifted the heaviest barrels as though they were made of feathers, knew nothing of hunger or sleep, and he possessed the uncanny ability to sense her mood or thoughts before she even entered the storage room.
A waft of strong spices filled the air a few seconds before Martha watched in amazement as her golem bounds seemingly out of nowhere, a look of ferocity on his face she had never seen before. With a terrible roar, two of the witch hunters are hurled high into the air, landing in a thudding, crumpled heap a few metres away, the same fate meeting their comrades until in the blink of an eye only Martha and her golem are left standing. Approaching him cautiously, Martha places a gentle hand on the golem's arm which feels warm to the touch.
"I'm okay. I'm okay," she says softly and as the golem looks into her eyes, sensing her emotions, his fury begins to abate until once more he is his usual calm self.
"We have to warn them," Martha says, looking around at the heaps of groaning witch hunters.
Standing to his full, imposing height, with Martha now on his back, the golem sets off towards the southern border, covering impossible distances with every bound.
Their escape had been a frantic affair. Hearing what sounded like a bull charging through the trees next to the path, they were amazed when a colossus leapt out of the canopy, landing in front of them, a curly-haired young woman on his back. After Martha hastily warned them of the agents lying in wait, Bryn raised a whirlwind to spirit them away as the golem charged towards their unseen pursuers, his roar filling the air. Once they were at a safe distance Martha, with a heavy heart, brought to mind the command that would undo her creation. As the last standing witch hunter readied to parry a blow, he was left perplexed as nothing but herbs and spices hit him.
"I don't see how we can enter the city unnoticed," Alice says, peering through the cover of the trees at the endless parade of guards and agents patrolling the city walls.
"We could walk around to see if there is a better way to pass?" Mathilda suggests.
"The crystal showed Sen that we need to be here," Serena countered, "and it hasn't led us wrong so far," she added, although with a hint of scepticism in her voice.
"What I don't understand is how an owl figures into this," Dragomir says.
"I don't quite understand myself," Sen admits, "but it is what I saw," the image of a figure morphing into an owl playing in her mind.
It took Johanna a few moments to make sense of the tracks she was reading. She had been following the group towards Noctenburg when, much to both their surprise, she happened upon her former captain leading an elite tracking squad accompanied by witch hunter agents. He explained that after the reports of the routing of the witch hunters, they had been ordered to offer the agents their assistance.
"Well, whatever made these giant prints disappeared as if into the thin air," Johanna says as she sees the golem disintegrating into spices.
"So I heard," the captain replies flatly.
"Something disturbed these prints here, a strong breeze perhaps," Johanna says, "but.," she pauses tantalisingly, pretending to notice something hidden in the undergrowth: "they proceeded this way."
Looking over her shoulder, the captain struggles to make out what Johanna saw. Despite her sudden departure months earlier, she had proved her uncanny ability to read signs others could not see time and time again and had never failed to lead them to their quarry.
"They went that way," Johanna announces firmly, pointing in the opposite direction to Noctenburg.
Pausing as if to say something, the captain simply nods and, gesturing to his squad, sets off.
Since she left the City Guard, Johanna's journey into the past had been revelatory. Following the trail leading from the confiscated belongings of the witch the captain had helped to imprison, she delved deep into forgotten memories, reading the innumerable stories held forever in the objects she discovered. She saw the shocking treatment of witches past, the unjust trials and sentencings, the purging of magic 800 years prior when the arrival of the dark comet was blamed on practitioners of witchcraft. She also uncovered forms of magic lost to the annals of time. One spell that did appeal to her sensibilities was one created by a witch long ago who, abandoned in a wood, had lived her entire life amongst animals. Blessed with the ability to understand all creatures and to know their true nature, she had developed spells that enabled her to take the form of any animal she desired.
Johanna spent some time learning the subtleties of the transfiguration spell until with little effort she was slithering silently in the tall grass, gambolling and bleating as a billy goat, rushing along the branches of a tree in the form of a squirrel or hooting joyously as she glided in the air.
"It looks like the patrols are becoming less frequent," Bryn says as dusk fades into night. "Maybe we should try and scale the wall once the next patrol passes by."
"But shouldn't we wait for the animals Sen saw?" Tommy asks.
"I'm not sure how they would help us, my boy," Dragomir softly replies to Tommy.
After a brief discussion, they decide to follow Bryn's idea, despite Sen's protests. Checking that the coast is clear, the group is about to leave their hiding place when the dark silhouette of a large bird with outstretched wings descends in front of them. Landing on a branch above, an owl peers at them for a few moments, before fluttering its wings it drops to the ground taking the form of a tall woman with a stern-looking face.
"That would have been foolish," she says to the surprised group. "You won't get two metres before you are caught. At least, as you are," she finishes, looking them up and down.
Drawn by an odd rustling, a passing patrol approaches the hideout in time to see owls take off into the night sky.
Throwing on her white cape held together with a brooch of a yellow and orange sun overlaid with a crescent moon, Septima stood on the threshold of her home, looking up into the clear sky, the Hallow's moon not yet risen over the canopy of the trees. She sensed a palpable change in the powerful magic that permeated the willow grove. It now pulsed with an acute vibrancy, heightened by the gathered witches and for a few moments she picked out the different magical energies, sensing the witch each thread belonged to. Grabbing her staff, she makes her slow way to the clearing, her steps silently muffled by the grass.
In the two days that had passed since the group had arrived, the clearing in the willow grove quickly filled with a hubbub of activity and merrymaking. As more witches from across Anduin arrived, they set up their camps, lit fires and began making preparations for the coming Sabbath and the arrival of Septima. Gathering ingredients that were in plenty, they brewed all manner of potions for both body and spirit, innocently competing with each other as to who could brew the most delicious, colourful or potent much to Luke's delight. Sitting around the fire, they traded the interesting and at times unfortunate stories of their lives and tales of the travels to Noctenburg. Without exception, for each of them their arrival in that enchanted grove felt like the culmination of a destiny laid out for them. With the preparations readied, they delighted each other by demonstrating their unique abilities and forms of magic, for once in their lives free of the fear and the rebukes that had always marked them as different and often unwelcome.
As the moon reached its zenith high above the grove and the activity had died down, some of them took turns singiAs the moon reached its zenith high above the grove and the activity had died down, some of them took turns singing the weird and wonderful songs and ditties common in their regions to the accompaniment of an orchestra made of pots, pants and whatever else a tune could be pulled from. When Albert finished singing an inventive and comical song about his many misadventures, the group grew silent as Nina's soft voice slowly rose filling the air, the drooping branches of the willows trees in their turn seeming to gently sway in the still night as they wove their music with her voice. Unaware of how much time had passed, when the music finally stopped they continued sitting in silence, absorbed by the flickering flames and the beauty of Nina's melody, a song that spoke to each of them of hope and friendship.ng the weird and wonderful songs and ditties common in their regions to the accompaniment of an orchestra made of pots, pants and whatever else a tune could be pulled from. When Albert finished singing an inventive and comical song about his many misadventures, the group grew silent as Nina's soft voice slowly rose filling the air, the drooping branches of the willows trees in their turn seeming to gently sway in the still night as they wove their music with her voice. Unaware of how much time had passed, when the music finally stopped they continued sitting in silence, absorbed by the flickering flames and the beauty of Nina's melody, a song that spoke to each of them of hope and friendship.
"It has been quite some time since I last heard these trees sing. It was such a beautiful song," a voice says suddenly from somewhere and as they turn, they see Septima approaching, her steps slow and measured. In silence their eyes follow her as she reaches the circle and stands before them leaning on her staff. Looking into the fire for a few seconds, she looks around the gathered group, taking in the many faces, a warm smile reaching her eyes. "Welcome. I'm happy to see you all here as I'm sure for many of you the journey was a long and arduous one."
Enchanting nearby roots to snake out of the ground, forming a chair, she continues: "For centuries this grove has been here, unchanged and guarded against the changing of the world. These willow trees you see before you stood here long before the city they now border was settled, stretching back to the very first of us who bore the mark you now carry on your palms, the wisest of their time chosen to be the High Witch who led all the covens of Anduin. Since that time, many have held this sacred role, serving as gatekeepers to our history, our rites and rituals of magical knowledge and guardians of all the magic you sense now coursing through this place." Pausing to look up at the full moon, the brooch on her cape glinting in its light: "I have kept the covenant of the altar of the High Witch for many a moon, led many Sabbaths and now my time is soon ending, the call of my forebears summoning me …onwards.
Although it is without doubt you have all faced many trials and tribulations - indeed magic is not looked upon fondly in these times - there lies another before you another journey that you must all embark on. A year from today, you must select one amongst your covens to be my successor and lead all the witches of Anduin. But be warned, the task will not be an easy one. It will test your magical knowledge and skill. You will be faced with challenges where the best path forward is not easy to discern and aid your brothers and sisters evade the threat of exile. Once the full circle of the seasons has come to pass, only upon the wisest of you shall my staff and the symbol and honour of the High Witch shall be bestowed.
I wish you all well on this adventure."