Have fun with Mindclash Games at SPIEL.digital!
Visit our booth and participate in our activities, such as:
Digital demo sessions: Perseverance Episode 1 and 2; Anachrony
Perseverance Episode 2 live stream with Mindclash Games
Mindclash Quiz every day with valuable prizes
Sign up to our demo sessions!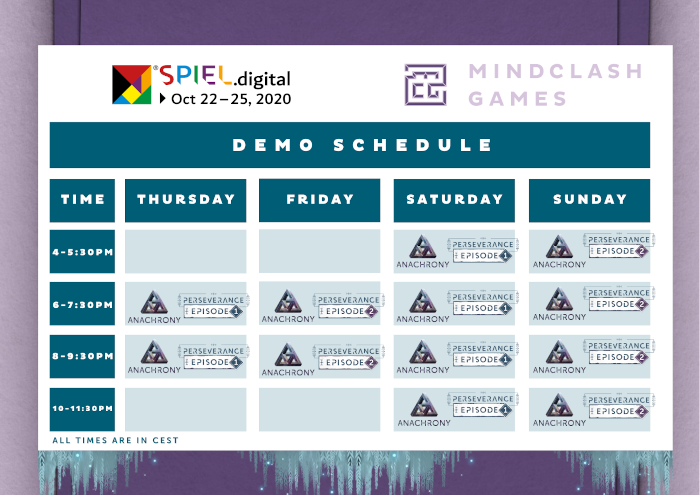 If you'd like to learn and try how to play Anachrony, Perseverance Episode 1 or Episode 2, please click on the schedule above to get access to the demo schedule and type in your name in the preferred time slot of the chosen game.
Then, make sure to click on the DISCORD link above the schedule to join our Discord server as well, where you will be able to "meet" the fellow players and your host before the game starts. Once you joined the server, you will find the text and the voice channels for the games. These will be used for communication during the demo sessions and you'll receive the link to your game session there.
The primary platform for Anachrony will be Tabletopia and the primary platform for Perseverance will be Tabletop Simulator. If preferred otherwise, please discuss it with your host in the Discord channel.
Mindclash Games Quiz Night!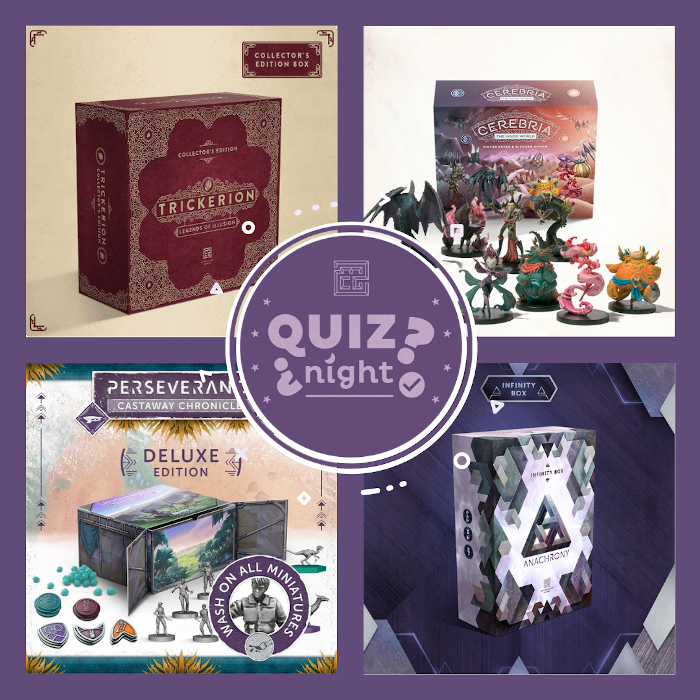 Do you know all of Magoria's magical secrets? Are you familiar with time travel or life in a post-apocalyptic world? Do you feel at home with emotions? Do you recognize dinosaurs just by their voice?
Then join us for a fun quiz show about the world of Trickerion, Anachrony, Cerebria and Perseverance from Thursday to Sunday at 19:00 CEST and win the Deluxe version of each game!
Slide into our Discord server for the quiz (QuizLiveStream channel)! If you're not yet registered on Discord, please make sure to do it before the quiz so you can start the game in time!
No app will be needed to join, but for a more comfortable experience we suggest to join the Discord channel on a PC or laptop and use your smart phone to interact with the questions.
You can join our Discord server here.
22/10/2020
09:00
- 25/10/2020
23:59
SPIEL.digital
Booth number: pending