It's fair to say that for most of us in the board game industry, Christmas comes early in October with the gigantic Essen Spiel convention, and it was doubly true for us this year. After the entire event having been cancelled in 2020 and massively downscaled in 2021, Spiel was back in full swing this year – and so were we!
This year, we decided to bring our entire team to the show, and we were preparing 9 demo tables on a booth almost twice as big as we ever had. We had a ton of novelties to show, thankfully surrounded by a lot of anticipation and excitement: Voidfall and the nearly-finished Septima had both been among the top 20 on BGG's Spiel '22 hotlist going into the show, despite not being available for purchase yet. And, of course, we had our very first straight-to-retail game in Astra, making its grand debut at Essen. To say we were excited for Spiel '22 would be an understatement!
Half of the MCG team took the train from Budapest, while the other half travelled by plane – once everyone safely arrived in Essen, all we had to do before the beginning of the convention was prepare our booth and wait for our stock to arrive as well. Of course, Spiel wouldn't be Spiel without something going wrong: the truck carrying our games broke down and we could only hope it would arrive before the opening of the convention. Thankfully, the truck entered the parking lot around 8 AM on Thursday, giving us just enough time to carry everything to the booth before the gates were opened to visitors.
We quickly got over the stress and frustration the delay caused as visitors started lining up to sign up for demos – at some point, we were quite literally surrounded from all sides as people queued up around our booth hoping to get a spot at one of the tables for Voidfall, Septima, Astra, Perseverance or Anachrony. We are eternally grateful and proud to say that all of our demos were fully booked every single day of Essen Spiel! We wish we could have provided a spot for everyone that wanted to try our games, but even with 9 tables, we were unfortunately not able to do so. It definitely makes sense for us to go even bigger next year!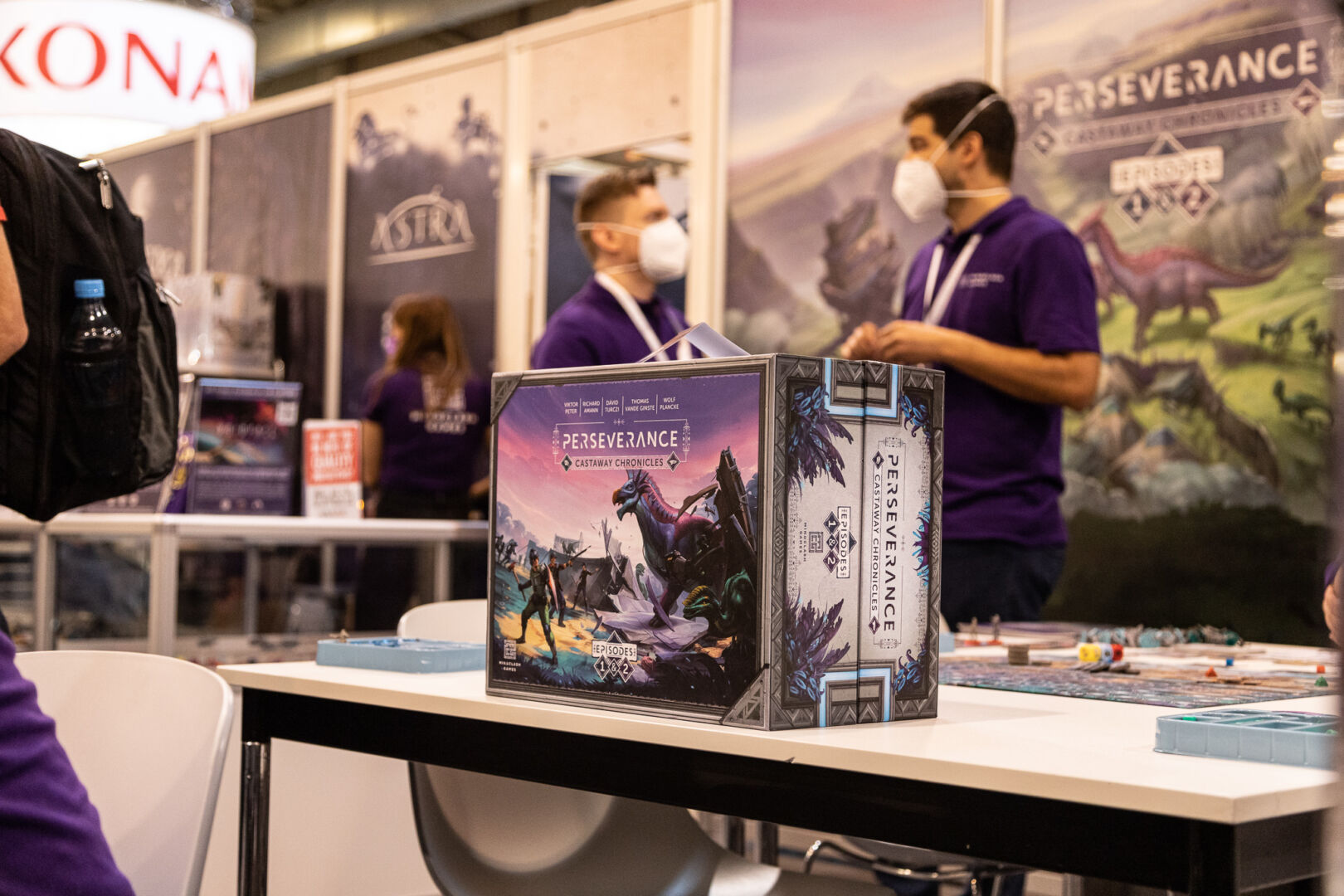 All in all, we had a wonderful time in Essen once again. It was truly touching to see just how many people are interested in our upcoming titles, and also how much love our already published games get from the community. Astra was flying off the shelves, and many customers decided to pick up Anachrony, Trickerion or Cerebria with it – the bravest and strongest visitors even took the challenge of carrying a copy of Perseverance Deluxe Edition around the convention!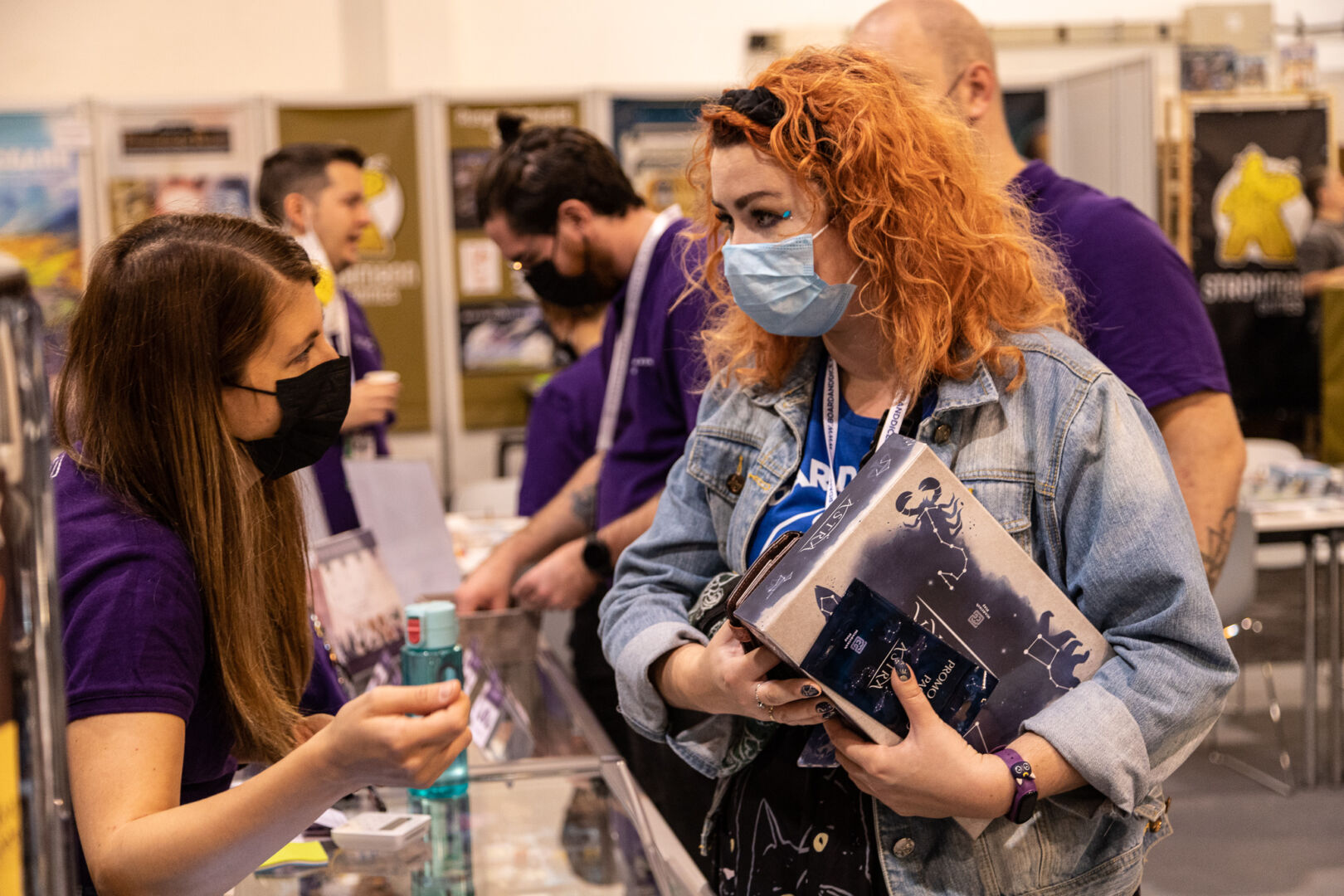 We had another scare Friday evening, while finishing up for the day at Spiel: we received a call that there was a fire in our hotel. Thankfully, it turned out to be a smaller fire only affecting the kitchen area, and no one was hurt. Our team agreed that we were lucky to have stayed at Spiel a bit later than we originally planned to – this way, we avoided the evacuation and could wait in the convention hall until we got confirmation that we are allowed back in the hotel.
Of course, MCG team members picked up dozens of games at Essen Spiel, including but not limited to: Block and Key, Eleven: Football Manager Board Game, Gardeners (Balázs's favourite), Woodcraft, Flamecraft, Deal with the Devil, So You've Been Eaten, Radlands, Revive, Turing Machine, Cat in the Box (Robin's favourite), War of the Ring: The Card Game and Horizons of Spirit Island. Frici's favourite was Unconscious Mind, which was not available for purchase but we were lucky enough to play a demo.
Thank you so much to everyone who visited our booth, and we can't wait to see you again in 2023! 🥳
06/10/2022
10:00
- 09/10/2022
19:00
Messeplatz 1, 45131 Essen, Germany
Booth number: 2E132