Priestess of Mysticism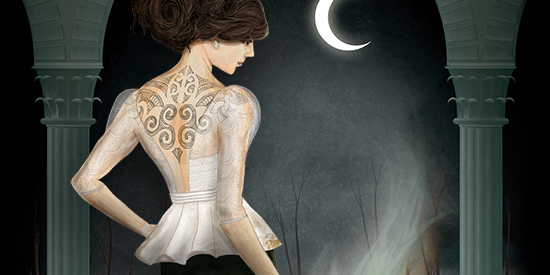 JOIN THE MISTRESS OF THE SPIRITUAL FOR A JOURNEY INTO THE OTHERWORLD!
By the time that Amabel Fae was born, her family had become quite wealthy from the success of her father's furniture workshop. But as she grew older, the business became less and less profitable. As the family's only child, the burden of keeping her family out of the poorhouse fell on her alone; so, she unwilling agreed to marry a rich nobleman--her heart, though, belonged to the son of the local blacksmith. On the day of her wedding, the boy showed up to profess his love and elope with Amabel. Furious, her fiancé took a guest's gun and shot the boy, killing him on the spot. Unable to move past this murder, she called off the wedding.
Part of Amabel died with her love that day, and, though she would not see her family again, she would never give up trying to contact the boy. Becoming obsessed with spiritualism, she dove deeper into the subject than reason would allow. When her ex-fiancé became sick with a disease that would slowly consume him, many blamed her, calling it a curse.
Nonethless, people started visiting her - some asking her to help them contact their deceased loved ones, others to bring doom to their enemies. Her fame quickly grew, and the Priestess of Mysticism was born. The Priestess not only has a natural ability to communicate with the dead but is also a gifted soothsayer; she is capable of altering the future by modifying the Prophecy for the round.