Geert von Augustin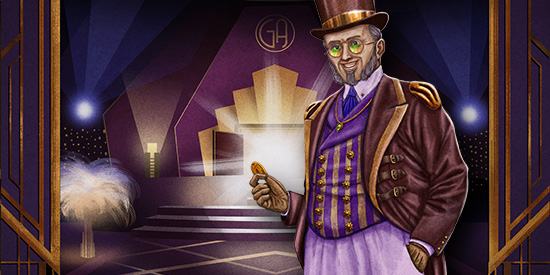 JOIN MAGORIA'S FAVORITE ENTERTAINER FOR A TIME OF YOUR LIFE!
Geert van Augustin is the son of Ioachim van Augustin, one of the richest people in the world. Though he shares the family wealth with twelve siblings, Geert's financial background is still nearly limitless. To the surprise of many, the van Augustin clan fully supports Geert's affection for magic as long as it keeps him away from the family business, for Geert's savvy for making money is quite diminutive compared to his ability to spend it.
Geert has always been fascinated by the life of Dahlgaard the Magnificent, having been born in the same country as the legendary illusionist. He is practically a walking lexicon of trivia about Dahlgaard's life; he visited every place the great magician did, collects his relics, financed a book written about his life, and is the president of the Dahlgaard's Legacy Association, a group dedicated to revering the Master's memory. Unsurprisingly, he followed in the footsteps of his hero, too, when he moved to Magoria to become a stage magician. Soon after his debut, however, Geert learned that the great legend passed away. Inconsolable in his grief, he plunged himself into supporting the renovation of Dahlgaard's Academy, a place where the legacy of this legend would live on forever.
Geert's shows employ breathtaking stage effects, bedazzling pyrotechnics, a plethora of assistants, and so on. He often distributes free gifts at the end of his performances and holds fancy parties, making him quite beloved among the audience.