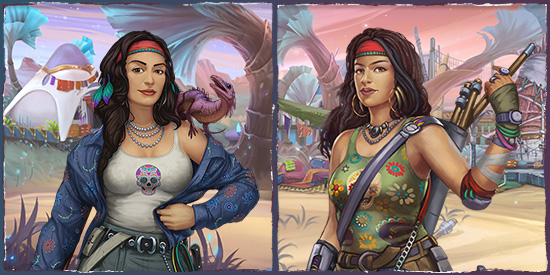 Adelita
Despite growing up in a poor family, Adelita never felt that she was deprived of good food—in fact, her mother was a creative genius who could turn the simplest ingredients into wonderful meals. Adelita was often helping her in their humble kitchen, learning her culinary tricks while her father was out drinking instead of supporting his family.
During her teenage years, her dad's behavior became more and more aggressive, so the two women decided to move to Adelita's maternal uncle. She was even able to earn a little money for themselves by doing the dishes at his diner. Throughout her years of hard work and dedication, she proved her potential and talent and slowly climbed the ladder, finally becoming the star chef of the lively Zona Hotelera area in Cancún.
As successful as she was in her professional life, her poor parental figure haunted her private life, resulting in a marriage with an abusive husband. Their last fight ended with Adelita fending for herself with a knife—after this incident, she swore she'd never return. Wanting nothing more than to disappear, she applied for the head chef position on the Pearl of the Seas, and she was hired without so much as an interview.