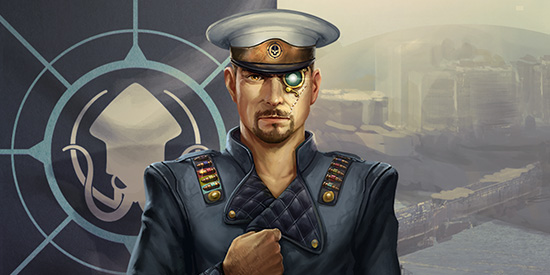 Captain Wolfe
With his mother dying during childbirth and his father subconsciously blaming him for her death, young Trenton Wolfe spent most of his time alone on the Atlantean's Bridge. Growing up around the battle-hardened crew, he gained a deep admiration for the Path's values of discipline and valor. He viewed his father as a weak leader and aspired to become a man that perfectly embodied the Path of Dominance. When the time came, he took the Captain's Oath as a man known for his strong and serious character.
His serious character, though, hides a dark secret: during one of his raids, where nomads are captured in the Outback and brought back to the ship for indoctrination, he accidentally murdered one of his fellow raiders to set free a captured woman with whom he had become romantically involved.
After realizing that he could not stop thinking of this woman, Wolfe began participating in every one of the area's raids, hoping to find her. When he finally did, he learned that the child in her arms was his daughter. Unable to accept the dangerous life she would have in the Outback, Wolfe brought his daughter to the only place where he could keep her safe, the Atlantean.