LUMENIA THE RADIANT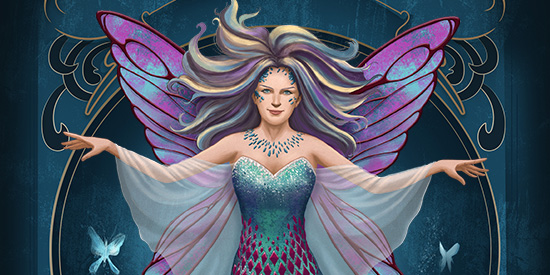 LET YOUR MIND BE ILLUMINATED!
Ordinary folks know Lumenia as the ethereal Goddess of Light, the Child of Brilliance, and not entirely from this world. This hearsay is only reinforced by the fact that no one has ever seen her outside of the stage - she always disappears at the end of her show in a radiant column of light. The Magorian Soothsayer - one of the least reliable papers in Magoria - published an article in which an anonymous young man, claiming to be a former suitor, shared some revolting secrets about Lumenia.
According to this source, the Lady of Light is Lucille Hammond, the young daughter of an honorable nobleman, who allegedly run away years ago with some circus performers. After leaving the empty life of aristocrats behind, she became fascinated with the radiant world of illusions. The young lady was bewitched by the tales of fairies and fantasy since early childhood, so it is no wonder that she drew inspiration from these creatures to create her own stage persona. Her breathtaking shows of brightness and brilliance became her trademark, dazzling the spectators with a seemingly endless symphony of flashes and rays. Thus, the Lady of Light achieved great fame in all of Magoria and beyond.
Lumenia's performances usually have a theme, telling the story of a fairy tale or some other fantastic adventure. She is extremely apt in chaining her show elements together in the most glamorous ways, keeping her audience in constant thrill and amazement. People love to return to her performances to be spirited away into an arcadian tale of her weaving.

PROFESSOR BERNARD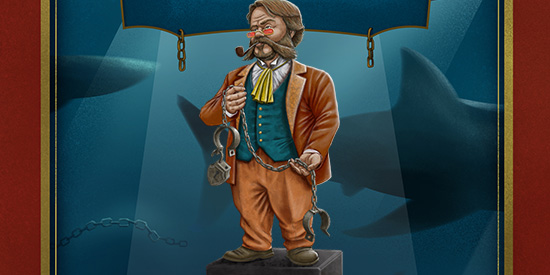 GASP AS THE WORLD CHAMPION ESCAPIST BREAKS OUT OF HIS UNDERWATER PRISON!
As the new Golden Age of Magic dawned, Bernard Drudson, a well-known artisan of locks in Magoria, received more and more peculiar requests from the city's performers. Being a man who is always up for a challenge, these tasks delighted him endlessly. One day, he had a dispute with an upstart magician who claimed that Bernard's shackles were flawed and that he almost drowned because of the mediocre craftsmanship. Bernard argued that the tool was working perfectly - it was rather the upstart escape artist's skill that is mediocre.
The magician was outraged and challenged Bernard to a duel, which he accepted under the condition that it shall be a duel of magicians. With both of them using the same generic shackles underwater, the first to emerge to the surface wins, and the loser is due to give a public apology and must forfeit his trade forever. The haughty magician accepted. The next day, when a huge crowd gathered to watch the duel, Bernard showed his unmatched understanding of locks, freeing himself in mere seconds. The audience was awe-struck, and the priggish magician left Magoria ashamed, never to return. It wasn't long until Bernard was invited to perform on stage, and his show was met with thunderous success.
From then on, young magicians flocked his workshop, begging him to teach them his ways with locks, and Bernard, being a teacher at heart, agreed. Decades have passed since then, and Professor Bernard - as he is known now in the magicians' world - became incredibly versed in dozens of tricks and is, to this day, the world record holder of the fastest Water Tank Escape ever performed.